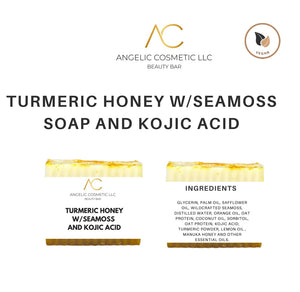 Turmeric Honey w/ Seamoss and Kojic Acid
$15.00

$15.00
Tax included.
Shipping
calculated at checkout.
---
---
Nourish your skin with natural ingredients, Turmeric and Honey with Seamoss. Rich in turmeric, seamoss and powerful antioxidants, this powerhouse formula targets and reduces hyperpigmentation, acne, dark spots, and uneven skin tone, while reducing inflammation and promoting a youthful glow.

Sea moss is great for both the hair and the skin. Sea moss is packed with 92 minerals and vitamins out of 102 that your body and skin needs. Also, contains 15 out of 18 minerals our body makes. Our sea moss infused soap act as a skin barrier, help to maintain skin complexion, treats acne, it's moisturizing, help to balance oil production and has anti-inflammatory properties. This soap scent is lemon with a hint of honey. 

Turmeric
powerful face ingredient to unclog pores and help reduce inflammation. Also, turmeric help to reduce acne, remove blackheads, scares and dark spots giving you a radiant look ( WEAR SUNSCREEN).
Honey: help to absorb and retain moisture into the skin. It helps to clean pores and get rid of skin conditions. Honey is also act as a gentle exfoliator. 
Lemon Oil: helps to lighten the skin giving an balance skin tone/complexion. Also, help to fade scars.
Orange Oil: helps promote clarity, fights inflammation and acne, and keeps our skin fresh
Kojic Acid:  antimicrobial properties, which can be help reduce the intensity of breakouts and any resulting post-inflammatory hyperpigmentation.
Benefits:
helps with uneven tone

lighten dark circles under eyes

help with eczema, rash, psoriasis or any skin conditions

tighten skin; anti wrinkles
fade dark spots 
reduce and control reoccurring acne
glowing healthy radiant skin
How to use:
Work into a lather circular motion and gently massage into skin morning and night. Let the soap stay for 2 minutes then rinse. Don't forget to tag it with Glow drop moisturizer and sunscreen.
Ingredients:Glycerin, Palm Oil, safflower Oil, Wildcrafted SeaMoss, Distilled Water, Orange Oil, Oat Protein, Coconut Oil, Sorbitol, Oat Protein, Turmeric Powder, Lemon Oil , Manuka Honey and other essential oils.
Skin Type: All Skin type especially acne and oily skin.
PATCH TEST IS NECESSARY. Design is expected to change yet same ingredients.
Recommendation: Turmeric tend to dry out the skin. The sea-moss and honey should help but we highly recommend using a facial moisture and SUNSCREEN. You will not see effective results without  protecting your skin from sunburns (sun rays damaging your skin). 
Size: 5.5 OZ
 Follow us on instagram @_angeliccosmetic
Item is non-returnable 
If you're allergic to anything, please contact us before purchase.
PATCH TEST IS NECESSARY. Design is expected to change yet same ingredients. 
Processing time: 1-3 Business days 
Standard shipping : 3-4 Shipping days
Thank you for shopping with us. 
---
We Also Recommend
---